Switches and Repeater
Deployable within all components in the train consist, switches integrate cybersecurity and managed-switch functionalities into complex vehicle architectures.
Managed consist switches with the highest availability
Where a universal Ethernet platform integrates all vehicle systems in a logical network, Consist switches are required for communication between them. Together with the Selectron switches, operators receive user-friendly graphical configuration tools that allow them to easily reconfigure and set up their devices.
Depending on the application, you - as a train manufacturer or rail operator - can choose between different interface speeds (up to 10 Gbit/s) and extensions. These include, for example, hardware bypasses for increased fail-safety. Another important aspect: the ability to create different network topologies; for example, using ring and high-end ladder topologies to improve overall network performance.
ADVANTAGES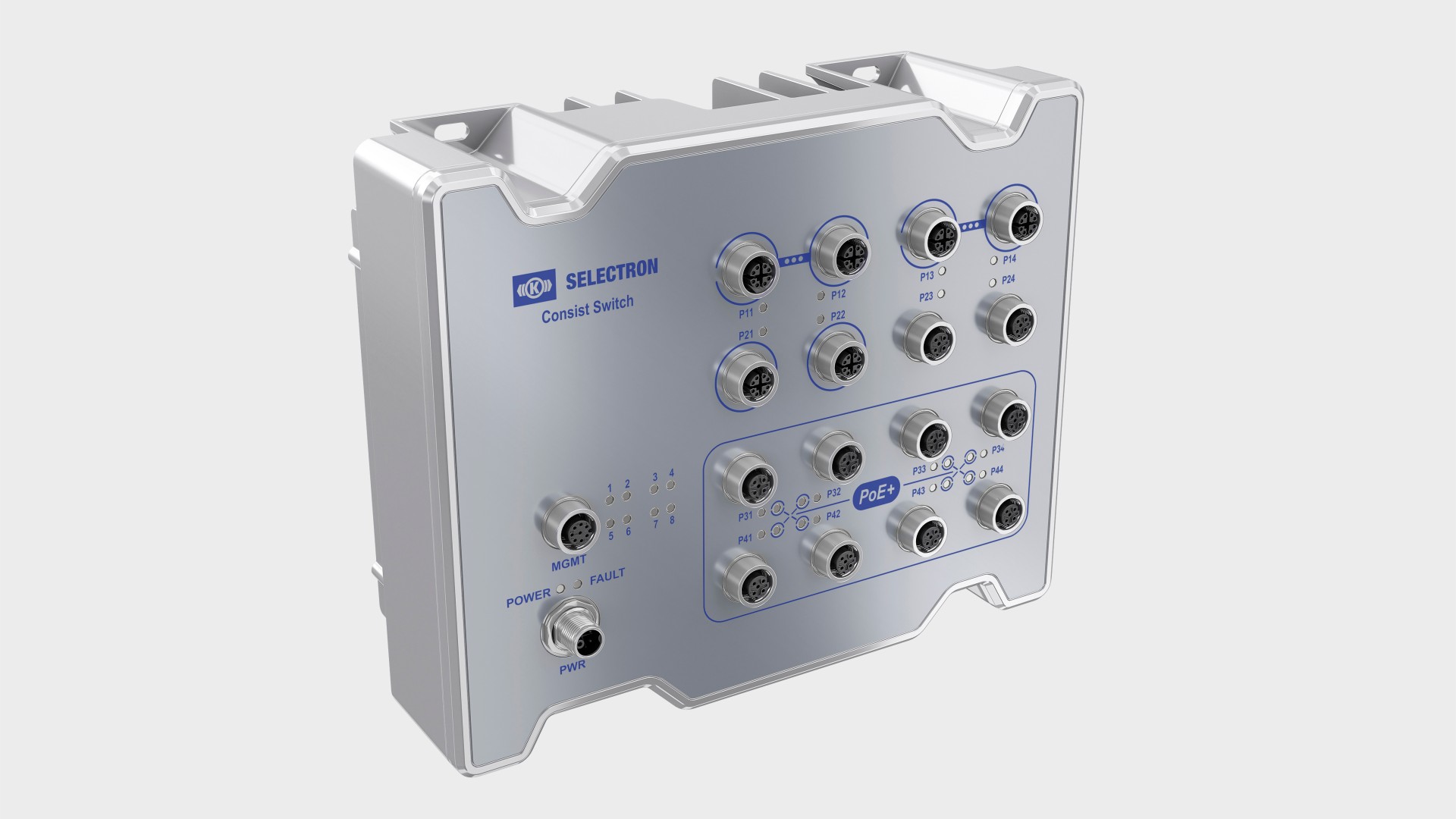 Fast ports or Giga ports, bypass or PoE: Selectron offers many different hardware configurations.
Automatic configuration of the entire Consist Switch network and automatic configuration of replaced devices.
Cybersecure by design: As a recognized expert, Selectron is your cybersecurity partner of choice.
Unmanaged consist switches - for plug-and-play communication
This 8-port Fast Ethernet Unmanaged Consist Switch is a Fast Ethernet Layer 2 Unmanaged Switch. Fully 50155-compliant, it is specifically designed for network applications in rolling-stock environments offering the highest reliability and robustness required by the rail industry.
Unmanaged switches are plug-and-play devices that do not require complex setups. They only allow Ethernet communications passing on information to where they need to go.
Providing wire speed layer 2 forwarding, its purpose is to enable the implementation of network topologies in a train.
ADVANTAGES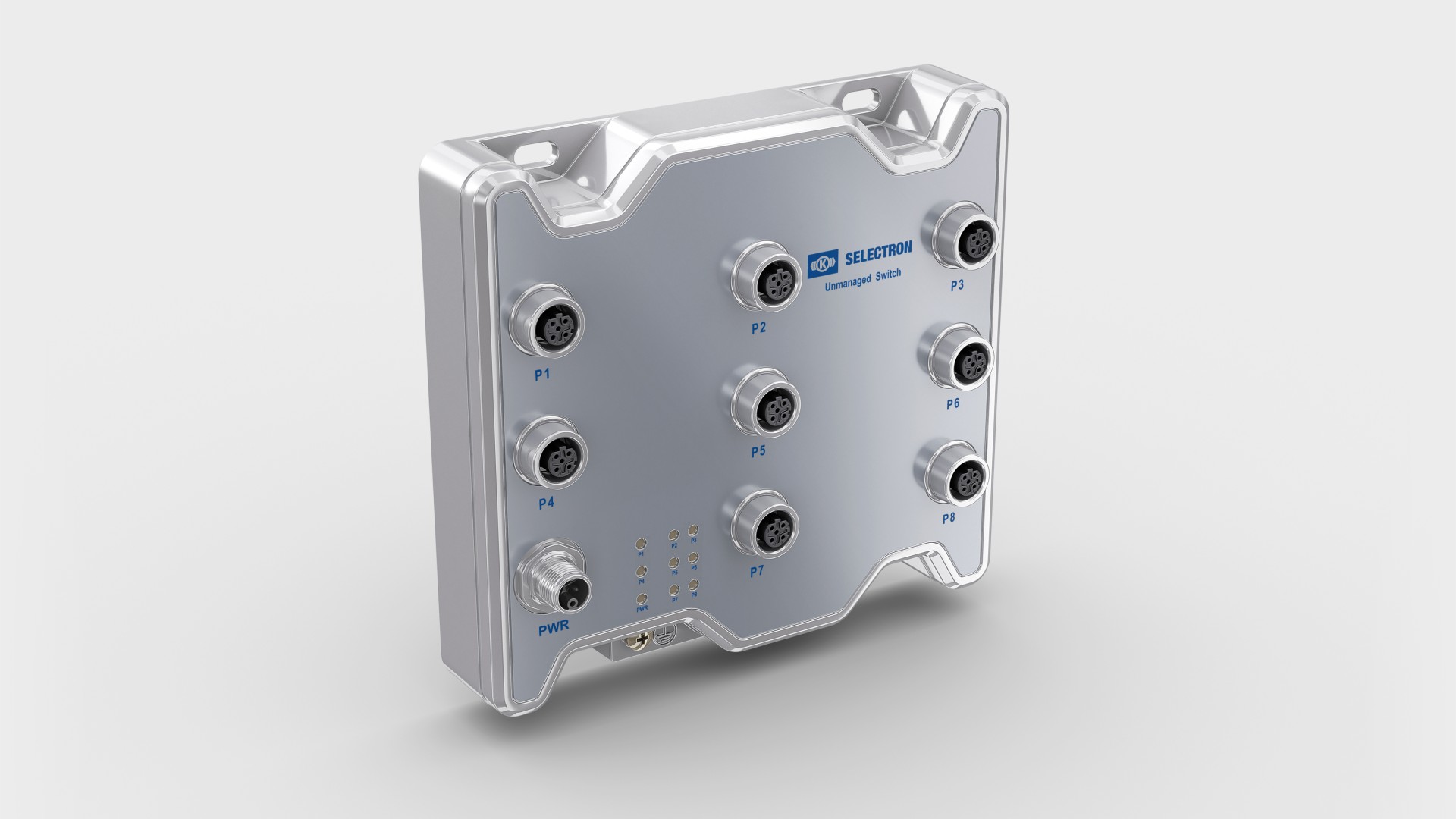 8 fast Ethernet ports: A compact and robust design for your application.
Reduce cost: just enough control for what you need.
Simplify installation: a plug-and-play device that does not require a complex setup.
Ethernet repeater
The Train Ethernet Repeater is an electronic device specifically designed for the regeneration of electrical parameters and Ethernet frame data and is fully transparent to all Ethernet protocols.
Ethernet repeaters regenerate Ethernet frame data and electrical parameters when the distance between two network devices exceeds 100m, and can be installed between two network nodes, e.g., to connect two Consist Switches or two Train Backbone Nodes if required by the installation parameters.
Each line is equipped with a bypass relay that is activated in case of power failure or controlled by a diagnostic microcontroller. The digital status output is available via dedicated pins in the power connector, protected against overcurrent by an internal resettable 120mA fuse (at 25°C).
These fully EN 50155-compliant Ethernet repeaters are specifically designed for rail vehicle applications in harsh environments.
ADVANTAGES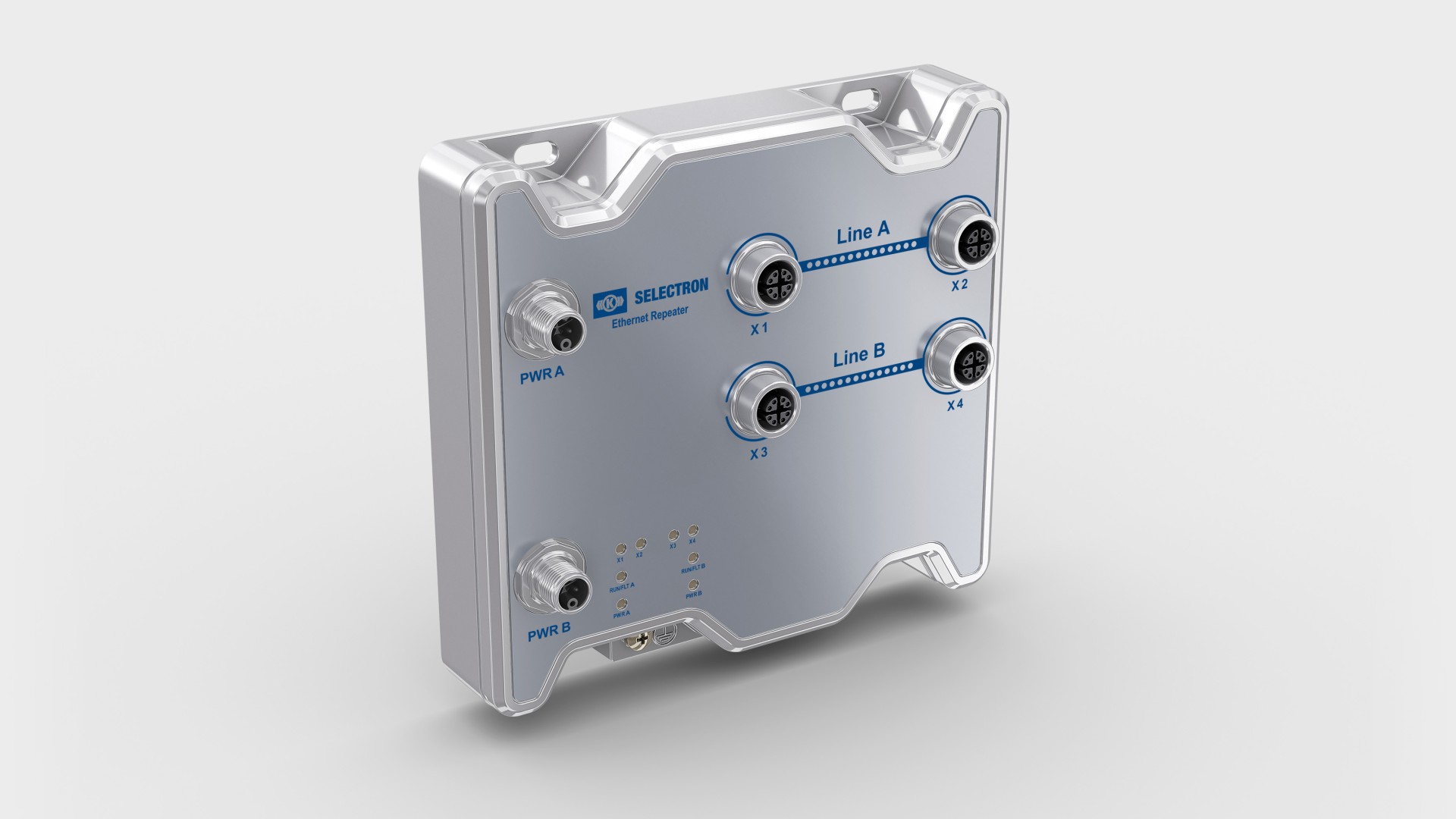 Fast or Gigabit Ethernet version available: A fast, reliable and compact design for your application.
2x Bypass: for a reliable and fast connection in case of a power failure.
Versatile and robust: whether on consist level or train bus level - one device - fully EN 50155-compliant.
Download



Flyer Switch and Router






White Paper Switch and Router



Contact us
Get more information
Selectron Systems AG
Bernstrasse 70
3250 Lyss
Switzerland
info@selectron.ch
+41 32 387 61 61 
(Charges may apply.)
Monday - Thursday:
08:00 - 12:00 and 13:30 - 17:00 (CET)

Friday:
08:00 - 12:00 and 13:30 - 16:00 (CET)



Back to Communication Technology