Train Backbone Nodes and Gateways
Ethernet Train Backbone Nodes allow dynamic train inauguration and the transparent integration of additional vehicle segments. They are needed whenever on-board networks are to extend over several cars or a train consist. With modern rail vehicles, this means: always.
Combining trains in an uncomplicated way
Train backbone nodes allow the uncomplicated assembly of consists and perform important monitoring functions for safe operation. Intelligent train inauguration, for example, is crucial for the control electronics of the door systems - so that the doors open on the correct side depending on the direction of travel.
As a rail vehicle operator, you benefit from two Selectron train bus coupler product groups. From the Train Backbone Switch, acting as a connection element (switch and router in one device) to the higher-level Ethernet Train Backbone, as well as to the Wire Train Bus. Both product groups may be used as standalone devices independently of other TCMS components.
ADVANTAGES
Two-in-one package with strong appeal: An IEC 61375-Standard Train Backbone Node comes with an integrated Ethernet Consist Switch to reduce complexity.
IEC 61375-2-5 train inauguration procedure is fully supported and it provides an ETBN control interface for TRDP devices as per IEC 61375 guidelines.
Automatic configuration of the complete TBS and Consist Switch network plus an automatic configuration of replaced devices.
Wire Train Bus Gateways increase productivity
This Wire Train Bus Gateway is a fundamental element of the communication between vehicles as part of the Train Communication Network portfolio of Selectron Systems. It provides the inter-operability between various consist buses and is also part of the train backbone. It enables connections with the train bus to exchange information about the on-board subsystems.
The compact design and the flexibility of 3 types of consist communications (ETH, CAN and MVB) makes this IEC-certified product the perfect fit for new vehicles and for vehicle modernizations.
As a train system integrator or train manufacturer you will benefit directly, since this gateway is certified according to IEC 61375 and supports the application functions specified by UIC 556 (International Union of Railways) via the embedded UIC mapping server. In addition, a fritting mechanism is provided to prevent the occurrence of contact oxidation.
To ensure high reliability, the WTB gateway operates redundantly. It performs the complete inauguration triggered by the mapping server application.
ADVANTAGES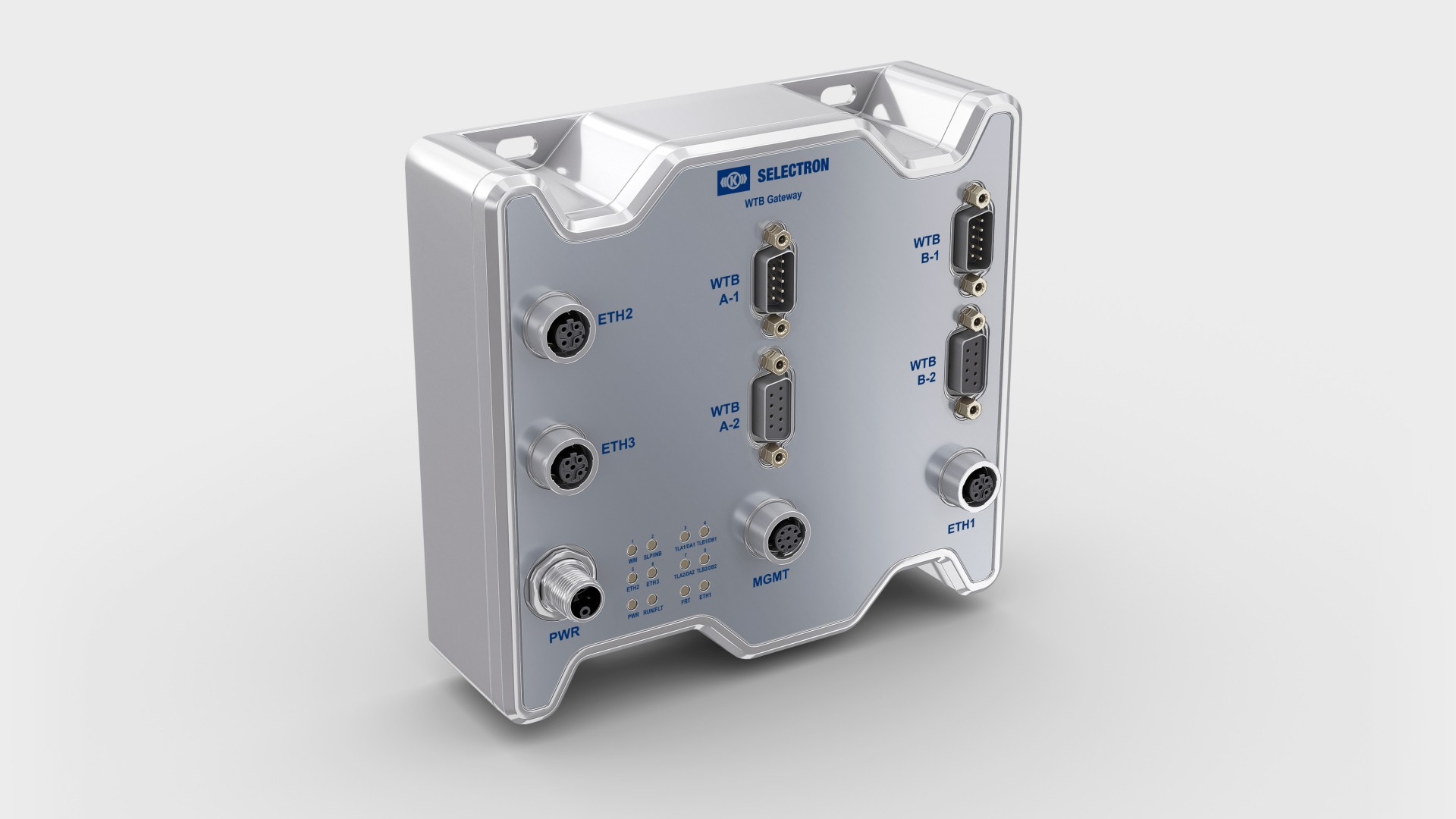 Full flexibility within new or modernization projects (ETH, CAN, MVB).
High reliability thanks to the redundant operation of the Wire Train Bus.
Certified according to IEC 61375 and support of UIC 556.
Wide-range power supply gives full flexibility in the field.
Security Gateway for rail operations of the future
The new Security Gateway is specifically designed to provide maximum security for your railroad networks. This device effectively separates up to 4 internal networks, providing unparalleled protection against potential threats.
Learn more under Cybersecurity
Download



Product Flyer Switches and Router






White Paper Network Technology






Security Gateway Use Cases



Contact us
Get more information
Selectron Systems AG
Bernstrasse 70
3250 Lyss
Switzerland
info@selectron.ch
+41 32 387 61 61 
(Charges may apply.)
Monday - Thursday:
08:00 - 12:00 and 13:30 - 17:00 (CET)

Friday:
08:00 - 12:00 and 13:30 - 16:00 (CET)



Back to Communication Technology